Educational Incursions for Schools, Early Childhood Services, Vacation Care, Libraries, Expos and more!
An Interactive, Musical, Fun-Learning Experience!
Go Seek Incursions take children on a musical journey of discovery, captivating them from start to finish in a creative and fun way!
Book or Enquire Now!
Musical, Interactive, Entertaining & Educational Incursions
Designed to empower, challenge and build the self-esteem of children.
Please see our selection of incursions, available individually or in any combination:
Jump to: Stage Shows / Craft and Activity Workshops / Other Services
4 - 8 year olds
An exciting NEW Go Seek Stage Show about SUSTAINABILITY that is designed to help kids understand how the way we choose to live today can impact the Earth and future generations.
3 - 8 year olds
SUPER STRONG BONES shows children how to build SUPER STRONG BONES and earn their SUPER STRONG BONES cape, empowering them to eat well, get their bodies moving & protect their bones!
2 - 8 year olds
The Go Seek Musical Adventure Show is suitable for any family event or theme and includes a general mix of age-appropriate themes.
Under 6 year olds
The Go Seek Junior Show is an exciting, interactive adventure where kids get to actively join in with fun, easy to follow dance steps and routines!
2 - 8 year olds
Join Pirate Gruff & Fairy Firefly as they head off on an interactive musical adventure filled with music, drama, movement and surprises!
Family Show
The Go Seek Jingle Jangle Journey Xmas Show is an interactive festive show creating an exciting holiday atmosphere for everyone!
Craft & Activity Workshops
Snow Globe Making Workshop
Children get to make their very own snow globe to take home! We provide all the materials, including snow globes, washi tape, glitter, sequins, glue, decorations, a mix of ornaments and more! Perfect for Christmas, Under-The-Sea themes, parties, craft days, weddings and events!
Plaster Painting
Suitable for children of all ages, our workshops are a fantastic way to introduce them to the world of art and encourage imagination and self-expression. Children will have the opportunity to explore their creativity and express themselves through art.
Balloon Twisting Workshop
Children receive a mix of colourful modelling balloons and learn how to make several fun balloon creations that they can then take home. (A balloon pump is provided for children to use during the workshop).
Multi Layered Fold-Out Greeting Cards
Children create their very own unique fold-out card with multi layered greetings, decals and decorations! Any theme - including mother's/father's day, thank you, birthday greetings, get well, gratitude and more…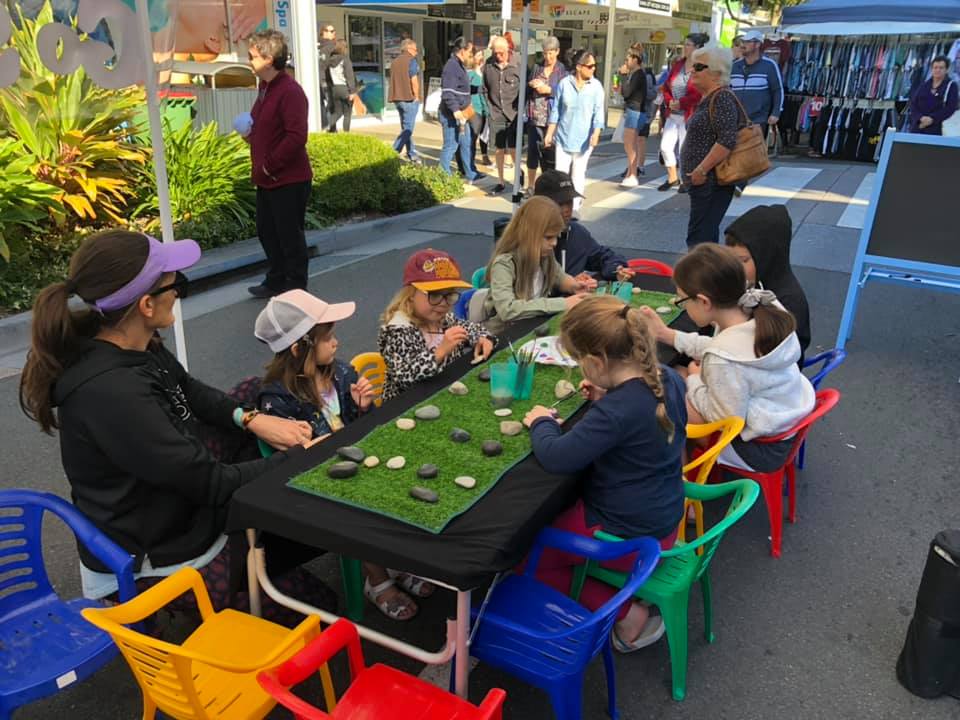 Rock Painting Workshop
Children are provided with a range of rocks in different shapes, sizes and colours as well a selection of paints/markers, utensils and brushes and have fun creating their very own rock art.
Other Craft Workshops and Themed Activities include:
Circus Skills and Craft
Crown, Headband, Mask, Hat Making
Beaded Pipe Cleaner Craft
Festival and Special Day Craft (e.g. Xmas, Easter, Halloween, Valentines Day, Father's, Mother's Day, Grandparent's Day, St Patricks, etc)
Paper Craft Creations (many themes
Jewellery Making
Colouring-in
Scratch Art
Painting with Marbles
And many more
Request your own theme
DELUXE WORKSHOP PACKAGES
For events/venues that would like to run a variety of different activities in one setting OR for clients that would like to run a week of workshops but would like to vary the activities daily, please enquire about our awesome DELUXE WORKSHOP PACKAGES which include several fun-filled activities in one package.
Popular DELUXE WORKSHOP Package themes include:
Xmas
Easter
Halloween
Valentine's Day
Mythical/Enchanted
Pirate &/or Fairy
Under-the-sea
Galaxy/Space
Nature
Animals
Rainbow/Colourful
Sustainability
Dinosaur
Mix 'n' Match
Choose your own.
Depending on your event/venue, there are many ways we can organise craft workshops and activities. E.g. for:
- 1-day Events (corporate fundays, birthday parties, weddings etc) workshops can be set up with several or all activities running at the same time so children can rotate around.
- Multiple Days/Events running daily (school holiday kids clubs, shopping centres etc) we can provide 1-2 different activities daily.
As every event is unique please let us know the type of event you are holding, the approximate number of children attending, age range,  and the amount of space you have, to enable us to quote accurately and ensure suitable and sufficient supply of materials and facilitators
Please get in touch for more information and to discuss your requirements!
Other Services
Go Seek provide a range of additional services that are perfect for incursions including:
Face Painting
Balloon Twisting
Discos
Funky Hair
All services are available individually or in any combination.
View the Incursions Promo Video
 Musical, Interactive, Entertaining & Educational Stage Show Incursions
Each Go Seek Stage Show Incursion is designed to empower, challenge and build the self-esteem of children. 
Whether you're after a curriculum aligned incursion or just fun ways to engage and educate your students, our Go Seek Show Incursions are both EDUCATIONAL and ENTERTAINING with a focus on children's social, cognitive and physical development.
Go Seek Incursions align with the Australian Curriculum and NQF/EYLF, helping teachers to meet their educational goals and achieve the National Quality Standard guidelines by addressing the key quality areas. Teachers can easily and quickly introduce, reintroduce, reinforce and extend on concepts to maximise positive student learning outcomes.
The duration of each Incursion varies depending on the theme, age range and event type and includes a variety of engaging, age-appropriate topics such as health, movement, nutrition, self worth, friendship, sustainability, imagination, animals, safety, outings, exploring and more. 
With a genuine interest in health, music, education and fun, Go Seek Incursions cater for a variety of different learning styles, creating a positive environment for children to thrive in.  
Through a combination of music, dance, drama, clever props, exciting story lines, high-energy routines, bright funky costumes, frequent opportunities for audience interaction and plenty of fun, Go Seek Show Incursions inspire children to go exploring, search for answers, get active, make discoveries, be musically creative, use their imagination, believe in themselves and most of all Go Seek out their dreams.
Each Go Seek Show Incursion arrives with:
Professionally trained performer(s) with blue cards/wwcc

Interactive musical show

Colourful backdrop

Set & sound equipment

Funky costumes & props

Original, award winning music

High energy routines

$30 million public liability insurance
Our requirements:
4m x 4m Performance area/stage

2 x tables

Access to power points
Go Seek also provide additional services suitable for incursions including Craft and Activity Workshops, Face Painting, Balloon Twisting and Disco Parties. Contact us to discuss your requirements and for more information!