Craft Workshops and Themed Activities for kids.
Any Theme, Any Event!
Go Seek provide hands-on, exciting, fun-filled craft workshops and themed activities for kids for any event, small to large, private or public. We can customise our workshops and activities to suit any theme or occasion at your request.
Book or Enquire Now!
Go Seek Craft Workshops and Themed Activities are a hands-on, interactive experience that allow children to participate imaginatively, play, create & have fun in Go Seek style! Our various workshops and activities provide children with a stimulating environment to encourage self expression, socialisation and creativity and incorporate a variety of fun activities including music, movement, games, drama, dance, colouring-in, craft, balloon sculpting, dress up, specific theme requests & more.
Available for any event, large or small, and for any duration, our Go Seek Workshops and Activities can also be tailored to suit a range of different age groups, themes and venues.
Craft Workshops and Themed Activities are popular for: primary schools, shopping centres, school holiday events, before & after school care, vacation care, Xmas events, corporate family fun days, kids clubs, birthday parties, pre-schools, clubs, resorts, hotels, camping grounds, festivals and more.
Snow Globe Making Workshop
Children get to make their very own snow globe to take home! We provide all the materials, including snow globes, washi tape, glitter, sequins, glue, decorations, a mix of ornaments and more! Perfect for Christmas events, weddings, school holiday activities, kids' parties, craft days, fun days, festivals and more!
Plaster Painting Workshop
Suitable for children of all ages, our workshops are a fantastic way to introduce them to the world of art and encourage self-expression. Children will have the opportunity to explore their creativity, develop hand, eye, arm and body coordination, and express themselves through art.
Super Hero Academy
Children get to have so much fun taking on a variety of training tasks to develop their skills and powers and ultimately become official superheroes.
Balloon Twisting Workshop
Children receive a mix of colourful modelling balloons and learn how to make several fun balloon creations that they can then take home. (A balloon pump is provided for children to use during the workshop).
Multi Layered Fold-Out Greeting Cards
Children create their very own unique fold-out card with multi layered greetings, decals and decorations! Any theme – including mother's/father's day, Xmas, Easter, thank you, birthday greetings, get well, gratitude and more…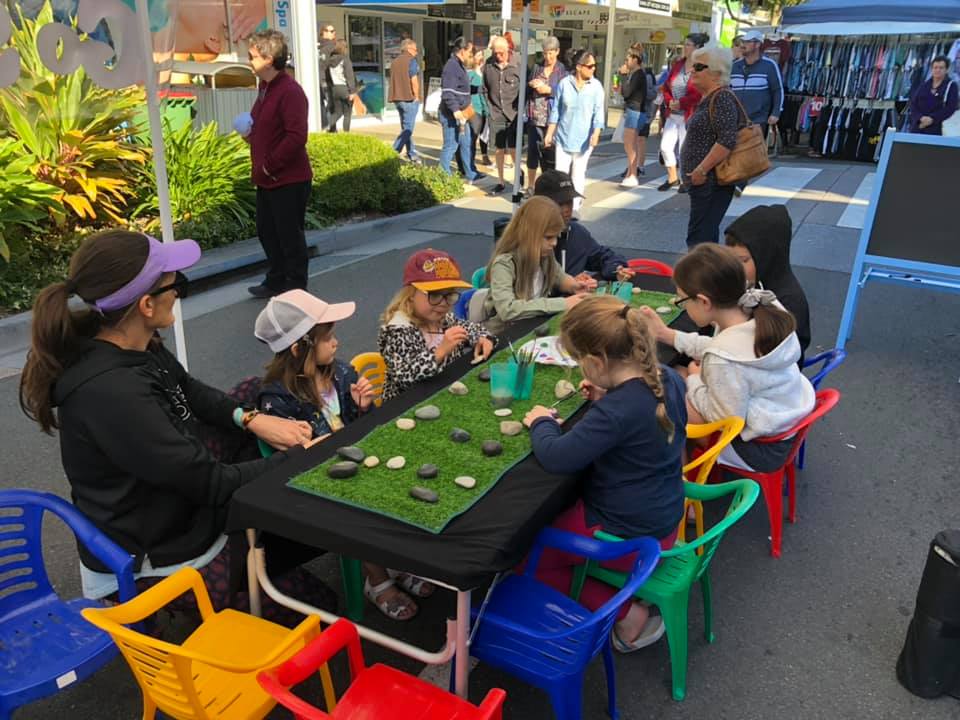 Rock Painting Workshop
Children are provided with a range of rocks in different shapes, sizes and colours as well a selection of paints/markers, utensils and brushes and have fun creating their very own rock art.
Other craft workshops and themed activities include:
Circus Craft (e.g. juggling balls)
Wooden Craft Painting
Themed Craft (e.g. Xmas, Easter, Halloween, Valentines Day, Father's/Mother's Day, Pirates, Fairies, Under the Sea, Superhero. Many themes)
Jewellery Making (Friendship bracelets, beading, pendants and more)
Mixed craft (card making, painting with marbles, colouring in, scratch art, 2D snowglobes, sticker fun, paddle pop designs, fairy wands/crowns, pirate treasure chests and more)
DELUXE WORKSHOP PACKAGES
For events/venues that would like to run a variety of different activities in one setting OR for clients that would like to run a week of workshops but would like to vary the activities daily, please enquire about our awesome DELUXE WORKSHOP PACKAGES which include a wide variety of fun-filled activities.
Popular DELUXE WORKSHOP Package themes include:
Xmas, Mythical/Enchanted, Pirate, Under-the-sea, Halloween, Galaxy/Space, Valentine's Day, Nature, Animals, Easter, Rainbow, Dinosaur, Mix 'n' Match and Choose your own.
Depending on your event/venue, there are many ways we can organise craft workshops and activities. E.g. for 1 day events (corporate fun days, birthday parties, weddings etc) workshops can be set up with all activities running at the same time so kids can rotate around OR, for events running daily (school holiday kids clubs, shopping centres etc) we can provide 1-2 different activities daily.
As every event is unique please let us know the type of event you are holding, the approximate number of children attending, age range,  and the amount of space you have, to enable us to quote accurately and ensure suitable and sufficient supply of materials and facilitators.
Get in touch for more information and to discuss your requirements!
Testimonials
"What I like most about Go Seek is their ability to entertain boys and girls of all ages. I can highly recommend Go Seek for an event of any size, their versatility is one of their greatest strengths which suited Club Med Kidz World perfectly, from daily shows in our main theatre to play-group based lunches with the Kids Clubs. Go Seek are an extremely polished and professional children's entertainment group."
Emma Jones
Marketing Co-ordinator
Club Med
"If the smiles on the children's faces were an indication of enjoyment, Go Seek were a great success".
Margaret White
Christmas Party Coordinator
"Amazingly talented and excellent with children! Can't recommend you highly enough. If you have an event coming up these guys should be first on your list!"
Kia-Melisse Manders
Birthday Mum

cour Go Seek Pop-Up Craft/Activity Workshops arrive fully equipped with:
A range of materials suited to your activity. (eg colourful paints, glitter, snow globes, figurines, canvases, beads, colourings)
Funky themed hosts (bright coloured uniforms, or themed characters eg elves, fairies etc) (specified at your request)
Full insurance cover including 30M Public liability insurance
All of our entertainers have Working with Children checks / blue cards
We use professional quality, and FDA approved materials, and where ever possible our materials are water based and non toxic .
Children are always supervised, and some materials (eg glue guns and scissors etc) are only used by adults/hosts and older children.
Workshops participant numbers are limited due to space and host to child ratio. Multiple sessions in a day are available.
We cover Sydney, NSW and Sunshine Coast, Gold Coast & Brisbane QLD. (Note: Travel fees may apply for locations more than 25km outside of the Sydney CBD, Brisbane CBD and Gold Coast CBD and areas outside of the Glasshouse Mountains to Noosa area of the Sunshine Coast.)
Face painting, balloon twisting, hair colouring, live musical shows or any of our services can be booked in addition to our Go Seek Craft and Activity Workshops**

* Receive a discounted price on Craft and Activity Workshops if booked with any other Go Seek Entertainment option.*